Ex-Capitol Theater Worringer Platz
FarOff BlackBox @ PLAY/III SCREENING
---
Das < FAR OFF Programm im Play-Festival zeigt Videoarbeiten und Filme von Künstlern von
Tiefgarage, S.Y.L.A.:NTHEMHEIM / Kunstversorgungsquartier, DAS ESSZIMMER space for art +, HilbertRaum Berlin und Greylight Projects Brussels
,
DD 55 Art Gallery.
With films by
< FAR OFF I
1. Monika Rechsteiner – Trigger · 2016 / DAS ESSZIMMER (08:24)
2. Andy Holtin – Ten o'clock – (2017) / HilbertRaum (0:40)
3. Tobias Sternberg – Actionpainting (2012) / HilbertRaum (0:50)
4. Adam Knight – Amateur Failure 2010 Digital Video / DAS ESSZIMMER (25'43)
5. Jérôme Chazeix – Die Monade, Kampf auf der astralen Ebene / Tiefgarage (13:32)
< FAR OFF II
6. Heidi Hörsturz – Yoyu Attack / Tiefgarage (3:00)
7. Wouter Huis – Dry Run a portrait of a studio / Greylight Projects (5:15)
8. Josephine Kaeppelin – Imminent Landscape / Greylight Projects(05:37)
9. Petra Egg – miniatur duo / DAS ESSZIMMER (02:07)
10. Harald Hoppe – hh #05 / S.Y.L.A:NTENHEIM / Kunstversorgungsquartier (10:01)
11. Katarzyna Badach & Alfredo Ramos Fernández – Surfing Buena Vista / DAS ESSZIMMER (03:30)
12. Ine Lamers – USTALA / DAS ESSZIMMER (20'21)
13: Robert Acklen, Alexandro Segade, Malik Gaines – The Legend – präsentiert von DD 55 Art Gallery

Ine Lamers – USTALA / DAS ESSZIMMER
< FAR OFF I
1. Monika Rechsteiner – Trigger · 2016 / DAS ESSZIMMER (08:24)
Trigger | 2013/2016 | 8:24 min
Regie, Kamera, Montage: Monika Rechsteiner | Ton: Marcus Göppner (FidaFlow), Monika Rechsteiner
trig·ger [ˈtrɪgəәʳ, Am -ɚ] SUBST: Auslöser, Abzug
Eine Kamera tastet sich durch die Wirren einer Industrieruine. Was sucht sie? Eine Perspektivcollage auf visueller und akustischer Ebene.
In den Arbeiten von Monika Rechsteiner spielen (Landschafts-)Räume und die medialen Möglichkeiten ihrer (Re-)Konstruktion oder Darstellung eine wesentliche Rolle. Stillstellung und Bewegung, Tiefe und Raum, all die medieninhärenten Parameter von Fotografie, Film oder Video werden dabei ebenso ausgelotet und reflektiert, wie sie als «bildgebende» Faktoren die von der Künstlerin erfasste und entworfene Welt konstituieren. Rechsteiner konfrontiert die BetrachterInnen mit Realitätskonstruktionen, die die vertrauten Wahrnehmungsmuster und Raum-Zeit-Auffassungen unterwandern, ein Gefühl von Unsicherheit und Irritation erzeugen. Dabei ist ihr Ansatz immer ein forschender, erkundender, der keine fest gefügte, ausdifferenzierte Welt(sicht) zeigt, sondern sich bewusst an den Randbereichen, im Unklaren und Mehrdeutigen situiert und damit indirekt zur Teilnahme und Positionierung der BetrachterInnen auffordert. (Text: Irene Müller)
Monika Rechsteiner:
Monika Rechsteiner ist Künstlerin und Bildautorin in den Bereichen Fotografie, Film, Installation und Kunstvermittlerin. Ausbildung an der Hochschule für Gestaltung und Kunst, Luzern (CH) sowie Masterstudiengang am Institut für Kunst im Kontext an der Universität der Künste Berlin (D). Internationale Ausstellungstätigkeiten und Auslandsstipendien in Helsinki und Tokyo sowie diverse Preise für Ihre Arbeiten sind Teil ihres Curriculums. Zentrale Themen in ihren Videos und Installationen sind Landschafts- und architektonische Räume sowie die medialen Möglichkeiten ihrer (Re-) Konstruktion oder Darstellung. Monika Rechsteiner wohnt und arbeitet in Frankenfelde, Berlin und in der Schweiz. www.echtzeitverdichtung.org <http://www.echtzeitverdichtung.org/>
2. Andy Holtin – Ten o'clock – (2017) / HilbertRaum (0:40)
Andy Holtin received his MFA from Virginia Commonwealth University's Sculpture and Exended Media program. His work uses technological systems to create perfomative objects and interactive installations, incorporating an exploratory range of
materials and processes. Holtin currently works as half of the collaborative duo CausalityLabs, pursuing projects that explore
mechanism as metaphor for human experience and perception. His work has been exhibited internationally at locations including Galerie35, Berlin, Germany; Museo Antropologico y de Arte Contemporaneo, Ecuador; Museo Universitario Arte Contemporaneo, Mexico City; Planetario Alfa Science and Culture Museum, Mexico; and nationally at museums, galleries, and
universities from New York to Portland to Florida. Holtin teaches all levels of Sculpture, addressing traditional media as well as installation formats, kinetic and interactive systems, and digital audio and video.
3. Tobias Sternberg – Actionpainting (2012) / HilbertRaum (0:50)
What would a young artist NOT do, to get noticed in the cut-throat art business? This sleight of hand, playfully produced pixilated animation explores the need for artists to always come up with something more outrageous, something more sensational, to stay ahead and get attention. Actionpainting was made using very simple means, and special effects of the kind already invented by George Mélies, creating an illusion the audience can at the same time see through and enjoy, but the humour is cruel, dark and contemporary.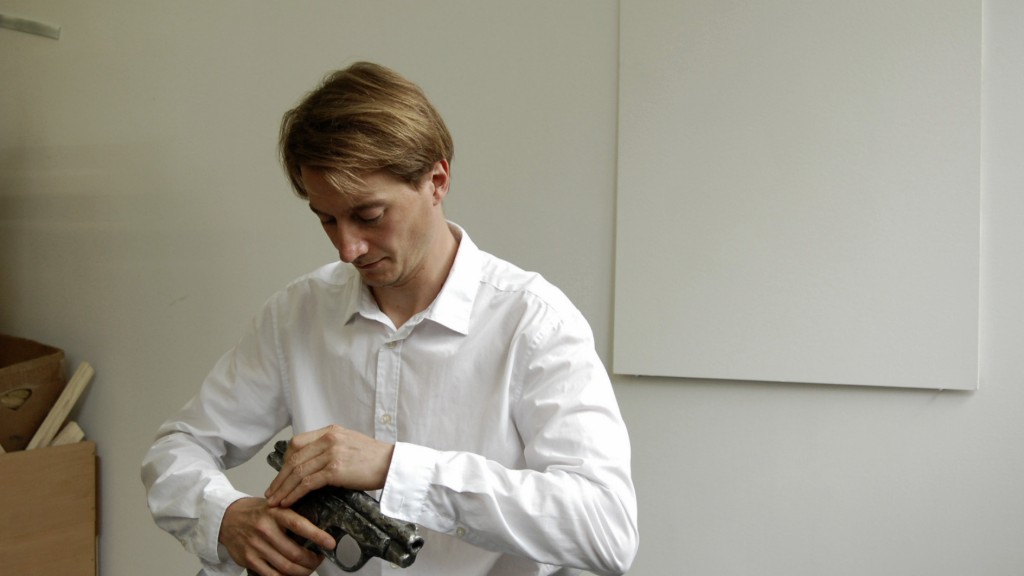 4. Adam Knight – Amateur Failure 2010 Digital Video (25'43) / DAS ESSZIMMER (25'43)
2010 Digital Video
"So how can we come to understand the two men's works in the era of irony? Where do we establish an anchor in which to parallel their relationships to failure and amateurism? Can one identify an origin? Perhaps origin as intentionality provides an entry point. In a lot of artworks, successive interpretations and readings can attempt to sabotage and topple meaning. Intention is at the heart of the amateur and failurist alike. At worst this intention can become an act of negation, where an accomplished failure is no longer vulnerable to the fall. The fall is constructed insofar as being a cynical exercise. In certain ways we find a similar strategy for the amateur, that of becoming skilled in the mimicry of amateurism. The difference it would seem to me is in the degree of transparency executed by the artist in relation to both these modes of working. How one understands what the failure is, is directly informed by the artist's parameters. As audience we judge the acceptability of the failure, all of which is tacitly embedded within the construction of the amateur persona."
Adam Knight:
Taking apart the formats of artistic production, Adam Knight addresses complexities inherent in art-making. He is interested in pursuing and interrogating moments of a-synchronicity, doubt and self-critique. Starting points often involve researching personal histories alongside specific art, film, architectural and literary references. These may manifest into film, sound, text, sculpture or photography. Works directly inform one another and contribute to a broader practice-led exploration of presentation and association.
Knight has exhibited at various art-spaces, galleries and been included in numerous film screenings and publications. He has shown in the United Kingdom, Germany, Portugal, Netherlands, Estonia, Switzerland, United States, Italy and Australia. Adam Knight currently lives and works in London, UK.
5. Jérôme Chazeix – Die Monade, Kampf auf der astralen Ebene / Tiefgarage (13:32)
The animated film "The monad, battle on the astral plane", (2009- 2014, 4 min. 31 sec., Three times repeated in a 13 min. 32 sec. HD video loop with music), consists of approximately 4800 individual drawings. A musical and colorful environment blends with language and electronic sounds to a Gesamtkunstwerk together in which to find elements of space, science fiction and anime are, and form a dialogue about the human being as pure cosmic energy. It explodes, pulsates, poeticizes and metaphors … a secret way to explain life. The film is a dense network of relationships forming, at the end of a large-scale Total installation to be expanded. Here, the space forms with the film at the center of the container transforms it to Plato's cave.
Jérôme Chazeix:
Jérôme Chazeix's works are contemporary total works of art. The approach of his work consists in the association of different media and their cross-over. Sculptures, videos, music and drawings are the elements he privilege in his creation. They are integrated, among others, to his installations, environments or performances, and combined to form an overwhelming and complex scenery, leading to a crystallization, an associative process much alike a network of facets or cosmos. Performances, which form part of the whole concept, are frequently realised in the installations and permanently presented as videos. Like a graphic contamination the staging take possession of all walls and invite to a specific atmosphere.

Monika Rechsteiner – Trigger · 2016 / DAS ESSZIMMER (08:24)
6. Heidi Hörsturz – Yoyu Attack / Tiefgarage (3:00)
The mediaartist "Heidi Hörsturz" is working in the fields of audiovisual performance, video and soundart. Her work have been presented at international exhibitions, gallerys and art festivals. Her animations, live shows and installations combining contemporary art and modern digital trash aesthetics. She published a series of limited soundart vinyls and audiotapes which researches the connection of noise, artificial overstimulation and constructed visual associations.
7. Wouter Huis – Dry Run a portrait of a studio / Greylight Projects (5:15)
Dry Run, a portrait of a studio is a single screen video about a television studio. The setting existing a table, three chairs, three microphones and a sheet of A4 paper, is filmed from multiple angles with different movements that are commonly used in television programs. The video is presented as a loop without a beginning or end.
production: Video Power (Tim Rutten & Hans van Hezik)
studio director: Eric Wijnhoven (L1)
camera: Bart Cuijpers, Bjorn Frins & Xavier Comuth (L1)
sound: Rene Bergers (L1)
sound advicer: Rob Driesen (L1)
Wouter Huis (1974, Oosterbroek, Nederland) is a visual artist who works with different media. He currently lives and works in Brussels and Hoensbroek.
In his works Huis shifts the limits of mental and architectural space, the borders of private and public space, the real and the fictive, delving into the elusiveness of almost-invisible 'random' details, such as the "touchy" pairing of corners, or the ambiguity of black matter. Huis creates minimal objects, interactive (video) installations, photographs and (performative) screenings, and makes interventions in exhibitions and public spaces. He questions (un)conscious methods of categorization, (re)presentation, projection, inversion, contradiction, coincidence and literality/shifting by focussing on small and (so-called) objective changes in space. Huis works have been shown internationally (Brussels, Amsterdam, Berlin, New York, Stockholm, …).
As an extension to his own art-practice Huis founded Greylight Projects. Greylight Projects started in 2009 as an organization in Hoensbroek dedicated to the production and exhibition of new (visual) art projects. In 2013 Greylight Projects expanded with a branch in a former convent in Brussels where in addition to an exhibition area and a chapel for performances also eighteen studios are located. (link: www.greylightprojects.org)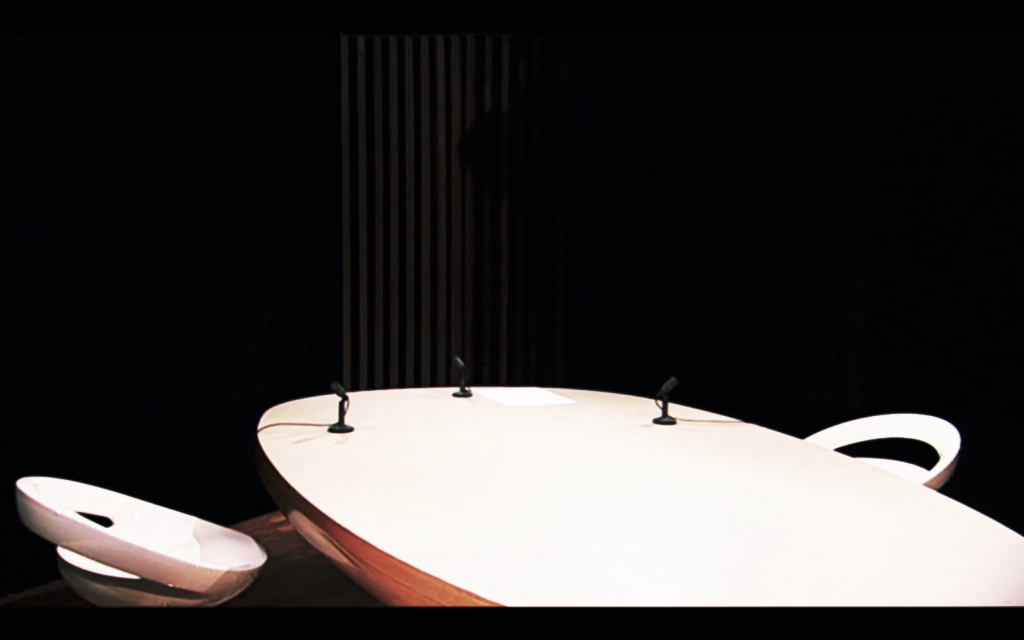 8. Josephine Kaeppelin – Imminent Landscape / Greylight Projects(05:37)
Joséphine KAEPPELIN – Imminent Landscape
Imminent Landscape, 2015
slide-show video, sound, 5m35s
with the voices of David Colosi, Cat Glennon and Jake Nussbaum
The video Imminent Landscape consists of sentences collected during a stay in New York in 2015 from various sources such as public talks, books, news and conversations. Stripped from their original context, they are rearranged in a particular order with the presentation program Microsoft PowerPoint and recorded through human voices. The work reflects one current state of mind of the society in its totality while each audio or text segment individually emphasize potential meanings.
Joséphine KAEPPELIN (born in 1985, Lyon FR)
Initially based on the balance between human beings and machines, J.Kaeppelin's researches have recently embraced larger issues like technological, social, visual systems and the world of work rather than only machines. How do we perceive, understand and act within an environment = a system? By observing, listening and collecting elements from the surroundings, she looks for tracks of freedom, will and consciousness in our way of living or working. By putting forward uses and gestures, she focuses attention on human presence within a life dominated more and more by programs. By using pre-defined formats, standards and default settings for example, she experiments with the likelihood of re-appropriation by use. Which strategies do we create to deal with external systems versus how are they acting on us? 9. Petra Egg – miniatur duo / DAS ESSZIMMER (02:07)
Petra Egg – miniatur duo 2 (02:16)
Mittels jeweils einer kurzen Sequenz werden die beiden Heimatfilme "Almrausch und Edelweiß" AT
1957 und "Carmen kehrt heim" JAP 1951 in einen Zusammenhang gestellt. Nach einer intensiven Auseinandersetzung mit dem deutsch/österreichischen Heimatfilm der Nachkriegszeit, stellte sich die Frage, ob auch in Japan, einem weiteren Verlierer des 2. Weltkriegs, ähnlich Filme entstanden.
Man sieht beide Male, wie die Hauptdarsteller in der unberührten Natur der Bergwelt in scheinbar unbändige Freude ausbrechen, einmal ob der Schönheit dieser Landschaft, das andere Mal kommt noch die Liebe dazu. Sie beginnen zu tanzen bzw. tanzend über die Bergwiesen zu laufen. "Petra Egg fokussiert Motive, um die in den Originalszenen angepeilten Wirkungen auf den Betrachter quasi fortzuschreiben und zu verstärken." Rainer Fuchs
Petra Egg, geb. in St. Johann/Tirol, lebt seit 1988 in Wien. Studium der Malerei an der Universität für Angewandte Kunst Wien und Kunstgeschichte an der Universität Salzburg. Ausstellungen u.a. in Art Athina – Athen, Kunstverein Salzburg, Kunstpavillon München ud Videonale Bonn.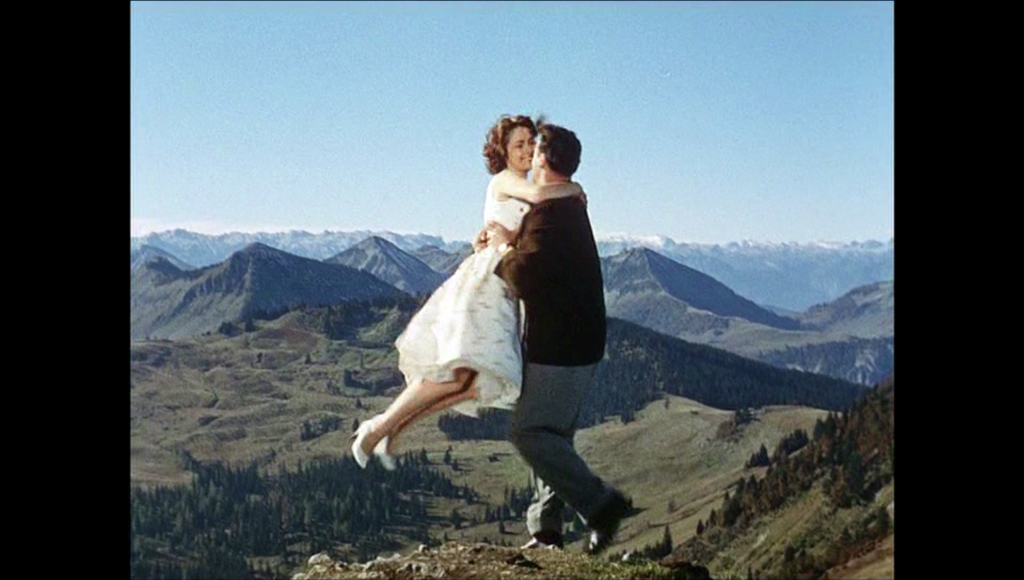 10. Harald Hoppe – hh #05 / S.Y.L.A:NTENHEIM / Kunstversorgungsquartier (10:01)
hh #05 (10'20min 16:9 split screen Videoloop, 2017-2013)
Person mit Kamera und Person nackt bewegen sich für je 30 Minuten in einem abgesteckten Radius in einem Schilffeld. Danach Wechsel der Rollen.
Harald Hoppe – Video, Performance, Partizipatorische Projekte , lebt und arbeitet in Alfer
Präsentierte seine Arbeiten unter Anderem in Temporäre Kunsthalle Kamenz, Temporäre Kunsthalle Thermi, S.Y.L.A.NTENHEIM, Bonn (D), International Videofestival Camarguey. Deutschlandstipendium und Stipendium des Bundesministeriums für Bildung und Forschung.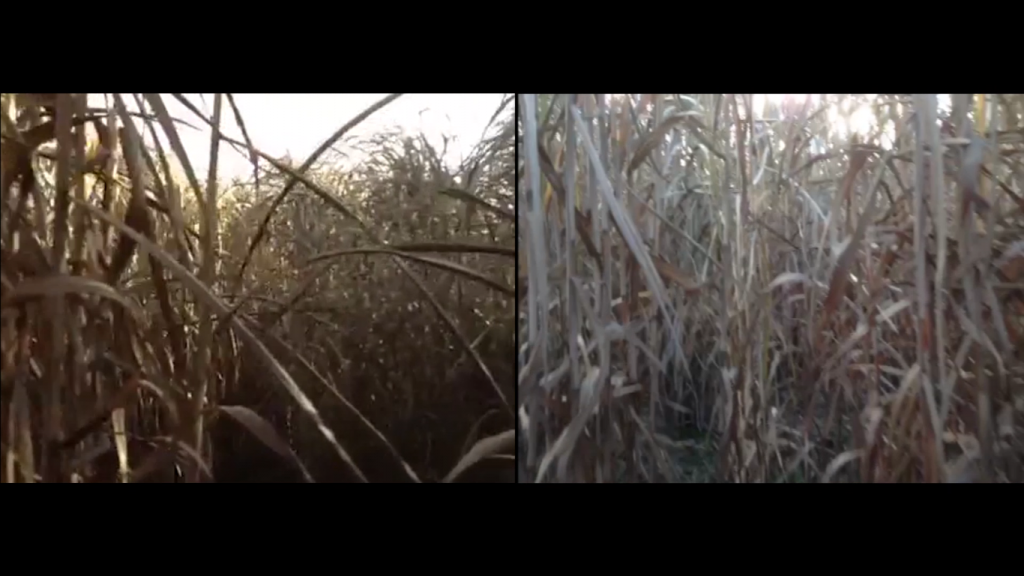 11. Katarzyna Badach & Alfredo Ramos Fernández – Surfing Buena Vista / DAS ESSZIMMER (03:30)
Katarzyna Badach http://www.kabadach.com/
Born 1975 in Gdansk, Poland. Lives and works in Havana, Cuba and Berlin, Germany.
Alfredo Ramos http://www.alfredoramosfernandez.com/
Born 1964, Havana Cuba. Batiscafo Scholarship, Triangle Arts Trust.
12. Ine Lamers – USTALA / DAS ESSZIMMER (20'21)
Directed by Ine Lamers 2005-2009 Film based on improvisation with a group of amateur and professional actors, performed and documented in Tolyatti, Russia. Scenes and tableaus are inspired by historic archive material and observations of daily life in contemporary Tolyatti.
Logline: A group of young people convicted to each other appears stranded in no-man's yesterday's paradise. Every time they disband; a big red bus drives them back together again Synopsis An accidental group of young Russians hang out by the remains of what has once been a paradise. The dystopic resort they find themselves in is situated on the periphery of Tolyatti, a communist model town, built in the 1950s. While walking in a nightly procession rehearsing poems or standing in line and speaking in alienating prose, the group seems to be performing a ritual; awaiting and hoping for something. Stone, grass and hollow monuments of culture surround them. The scenery is muddy, windy, and the sky is of a brown-grey hue; it is unclear whether it's night or day. Some characters emerge into our visual foreground by way of their repetitive actions: Olya who jumps mechanically in the water, Marcia who runs, and Slava who, almost in a stage of trance, touches the historic mosaic wall. No-one listens, but this does not prevent Tanya from talking about hope and expectations and how "everything will change". "Maybe it's better to keep silent again" replies Sergei in return. Interrupted by fragments of archival film material of the city in earlier, more 'hopeful' times, Ustala unrolls a dark scenario of loss and innate despair. We lose track of following sense and meaning as absurdity increases. Some of the girls simply "want coffee" and call for "Diana". Marcia gets tired and finally openly gives up. "You're not one step closer?" "I want something hot to drink", she begs.
Ine Lamers makes video art, where narrative and abstract elements are juxtaposed with one another, depict urban still-lives with traces of human activity, or paralyzed scenes on which actors take stage. The works form a research into the narrative potentialities of photographic and video media.
"I seek out stories and buried memories and travel to countries where ideology is encapsulated in the architecture and the city space. Socialist city architecture and the traces of communist ideology have central significance in recent photographic and video works. The dystopian scenes in urban peripheries are often captured at dusk or at night, or with actors on theatrical stages. The obscurity and artificiality evoke a view on how the past is still part of the present.
The photos and videos purposefully offer us fragments. In exhibitions the viewer becomes part of the reconstruction of a non-linear visual narrative."

Heidi Hörstuz – Yoyu Attack
Nr.13: The Legend – präsentiert von DD 55 Art Gallery
The Legend is a video By Robert Acklen-Brečko, Malik Gaines, and Alexandro Segade. Appropriating the mythic qualities of the Norwegian landscape where it's shot, The Legend conveys some of the longing and catastrophic masculinity of English Arthurian stories. Driven by the desire to kill his father, Mordred assembles a melancholic band of renegade brothers with violent lusts and mother issues. Their synthetic athletic-wear armor won't protect them from the crisis of their world. The Legend draws on a chivalrous literary tradition that includes Le Morte d'Arthur, Sir Gawain and the Green Knight, The Mists of Avalon, Camelot, and Segade and Gaines's work with the performance group My Barbarian. The Legend was commissioned by the Rogaland Kunstsenter, Stavanger. Acklen, Gaines, and Segade perform along with Hiroshi McDonald Mori, Matias Kiil Halvorsen, Aleksander Naerbo, Runar Aanestad, Torunn Elisabeth Larsen, Tor Erik Bøe, Andreas Breivik, and Claudia Bull.