PLAY/III Screen­ing
Ex-Capi­tol The­ater Wor­ringer Platz
FarOff BlackBox @
PLAY

/

III

SCREENING
---
Das FAR OFF Pro­gramm im Play-Fes­ti­val zeigt Videoar­beit­en und Filme von Kün­stlern von Tief­garage, S.Y.L.A.:NTHEMHEIM / Kun­stver­sorgungsquarti­er, DAS ESSZIMMER space for art +, Hilber­tRaum Berlin und Grey­light Projects Brus­sels, DD 55 Art Gallery.
With films by
FAR OFF I
1. Moni­ka Rech­stein­er – Trig­ger · 2016 / DAS ESSZIMMER (08:24)
2. Andy Holtin – Ten o'clock – (2017) / Hilber­tRaum (0:40)
3. Tobias Stern­berg – Action­paint­ing (2012) / Hilber­tRaum (0:50)
4. Adam Knight – Ama­teur Fail­ure 2010 Dig­i­tal Video / DAS ESSZIMMER (25'43)
5. Jérôme Chazeix – Die Mon­ade, Kampf auf der astralen Ebene / Tief­garage (13:32)
FAR OFF II
6. Hei­di Hörsturz – Yoyu Attack / Tief­garage (3:00)
7. Wouter Huis – Dry Run a por­trait of a stu­dio / Grey­light Projects (5:15)
8. Josephine Kaep­pelin – Immi­nent Land­scape / Grey­light Projects(05:37)
9. Petra Egg – miniatur duo / DAS ESSZIMMER (02:07)
10. Har­ald Hoppe – hh #05 / S.Y.L.A:NTENHEIM / Kun­stver­sorgungsquarti­er (10:01)
11. Katarzy­na Badach & Alfre­do Ramos Fer­nán­dez – Surf­ing Bue­na Vista / DAS ESSZIMMER (03:30)
12. Ine Lamers – USTALA / DAS ESSZIMMER (20'21)
13: Robert Acklen, Alexan­dro Segade, Malik Gaines — The Leg­end — präsen­tiert von DD 55 Art Gallery
FAR OFF I
1. Moni­ka Rech­stein­er – Trig­ger · 2016 / DAS ESSZIMMER (08:24)
Trig­ger | 2013/2016 | 8:24 min
Regie, Kam­era, Mon­tage: Moni­ka Rech­stein­er | Ton: Mar­cus Göpp­n­er (FidaFlow), Moni­ka Rech­stein­er
trig·ger [ˈtrɪgəәʳ, Am -ɚ] SUBST: Aus­lös­er, Abzug
Eine Kam­era tastet sich durch die Wirren ein­er Indus­trieru­ine. Was sucht sie? Eine Per­spek­tiv­col­lage auf visueller und akustis­ch­er Ebene.
In den Arbeit­en von Moni­ka Rech­stein­er spie­len (Landschafts-)Räume und die medi­alen Möglichkeit­en ihrer (Re-)Konstruktion oder Darstel­lung eine wesentliche Rolle. Still­stel­lung und Bewe­gung, Tiefe und Raum, all die medi­en­in­härenten Para­me­ter von Fotografie, Film oder Video wer­den dabei eben­so aus­gelotet und reflek­tiert, wie sie als «bildgebende» Fak­toren die von der Kün­st­lerin erfasste und ent­wor­fene Welt kon­sti­tu­ieren. Rech­stein­er kon­fron­tiert die Betra­ch­terIn­nen mit Real­ität­skon­struk­tio­nen, die die ver­traut­en Wahrnehmungsmuster und Raum-Zeit-Auf­fas­sun­gen unter­wan­dern, ein Gefühl von Unsicher­heit und Irri­ta­tion erzeu­gen. Dabei ist ihr Ansatz immer ein forschen­der, erkun­den­der, der keine fest gefügte, aus­d­if­feren­zierte Welt(sicht) zeigt, son­dern sich bewusst an den Rand­bere­ichen, im Unklaren und Mehrdeuti­gen situ­iert und damit indi­rekt zur Teil­nahme und Posi­tion­ierung der Betra­ch­terIn­nen auf­fordert. (Text: Irene Müller)
Moni­ka Rech­stein­er:
Moni­ka Rech­stein­er ist Kün­st­lerin und Bil­dau­torin in den Bere­ichen Fotografie, Film, Instal­la­tion und Kun­stver­mit­t­lerin. Aus­bil­dung an der Hochschule für Gestal­tung und Kun­st, Luzern (CH) sowie Mas­ter­stu­di­en­gang am Insti­tut für Kun­st im Kon­text an der Uni­ver­sität der Kün­ste Berlin (D). Inter­na­tionale Ausstel­lungstätigkeit­en und Aus­landsstipen­di­en in Helsin­ki und Tokyo sowie diverse Preise für Ihre Arbeit­en sind Teil ihres Cur­ricu­lums. Zen­trale The­men in ihren Videos und Instal­la­tio­nen sind Land­schafts- und architek­tonis­che Räume sowie die medi­alen Möglichkeit­en ihrer (Re-) Kon­struk­tion oder Darstel­lung. Moni­ka Rech­stein­er wohnt und arbeit­et in Franken­felde, Berlin und in der Schweiz. www.echtzeitverdichtung.org
2. Andy Holtin – Ten o'clock – (2017) / Hilber­tRaum (0:40)
Andy Holtin received his MFA from Vir­ginia Com­mon­wealth University's Sculp­ture and Exend­ed Media pro­gram. His work uses tech­no­log­i­cal sys­tems to cre­ate per­fo­ma­tive objects and inter­ac­tive instal­la­tions, incor­po­rat­ing an explorato­ry range of
mate­ri­als and process­es. Holtin cur­rent­ly works as half of the col­lab­o­ra­tive duo Causal­ity­Labs, pur­su­ing projects that explore
mech­a­nism as metaphor for human expe­ri­ence and per­cep­tion. His work has been exhib­it­ed inter­na­tion­al­ly at loca­tions includ­ing Galerie35, Berlin, Ger­many; Museo Antropo­logi­co y de Arte Con­tem­po­ra­neo, Ecuador; Museo Uni­ver­si­tario Arte Con­tem­po­ra­neo, Mex­i­co City; Plan­e­tario Alfa Sci­ence and Cul­ture Muse­um, Mex­i­co; and nation­al­ly at muse­ums, gal­leries, and
uni­ver­si­ties from New York to Port­land to Flori­da. Holtin teach­es all lev­els of Sculp­ture, address­ing tra­di­tion­al media as well as instal­la­tion for­mats, kinet­ic and inter­ac­tive sys­tems, and dig­i­tal audio and video.
3. Tobias Stern­berg – Action­paint­ing (2012) / Hilber­tRaum (0:50)
What would a young artist NOT do, to get noticed in the cut-throat art busi­ness? This sleight of hand, play­ful­ly pro­duced pix­i­lat­ed ani­ma­tion explores the need for artists to always come up with some­thing more out­ra­geous, some­thing more sen­sa­tion­al, to stay ahead and get atten­tion. Action­paint­ing was made using very sim­ple means, and spe­cial effects of the kind already invent­ed by George Mélies, cre­at­ing an illu­sion the audi­ence can at the same time see through and enjoy, but the humour is cru­el, dark and con­tem­po­rary.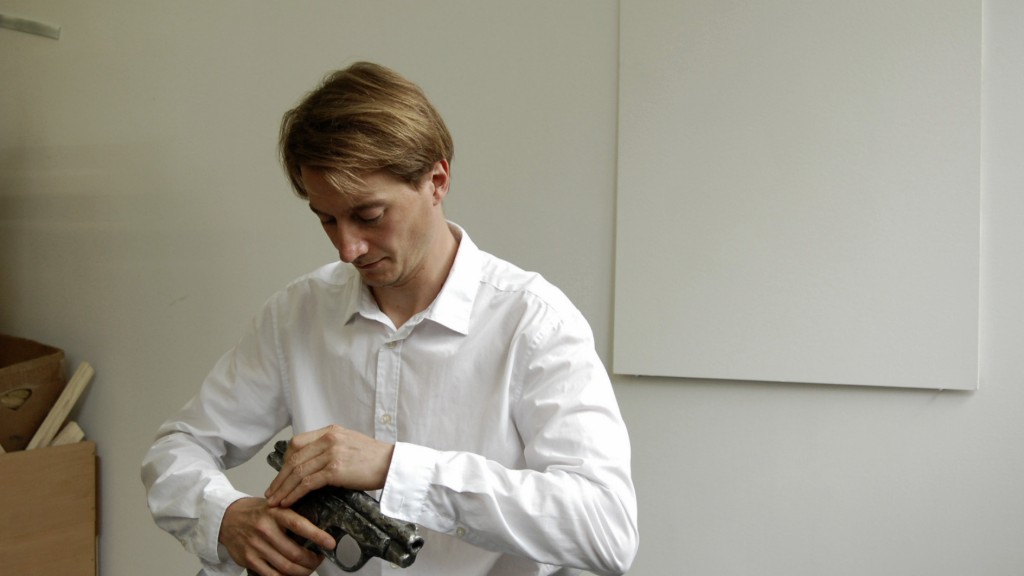 4. Adam Knight – Ama­teur Fail­ure 2010 Dig­i­tal Video (25'43) / DAS ESSZIMMER (25'43)
2010 Dig­i­tal Video
"So how can we come to under­stand the two men's works in the era of irony? Where do we estab­lish an anchor in which to par­al­lel their rela­tion­ships to fail­ure and ama­teurism? Can one iden­ti­fy an ori­gin? Per­haps ori­gin as inten­tion­al­i­ty pro­vides an entry point. In a lot of art­works, suc­ces­sive inter­pre­ta­tions and read­ings can attempt to sab­o­tage and top­ple mean­ing. Inten­tion is at the heart of the ama­teur and fail­urist alike. At worst this inten­tion can become an act of nega­tion, where an accom­plished fail­ure is no longer vul­ner­a­ble to the fall. The fall is con­struct­ed inso­far as being a cyn­i­cal exer­cise. In cer­tain ways we find a sim­i­lar strat­e­gy for the ama­teur, that of becom­ing skilled in the mim­ic­ry of ama­teurism. The dif­fer­ence it would seem to me is in the degree of trans­paren­cy exe­cut­ed by the artist in rela­tion to both these modes of work­ing. How one under­stands what the fail­ure is, is direct­ly informed by the artist's para­me­ters. As audi­ence we judge the accept­abil­i­ty of the fail­ure, all of which is tac­it­ly embed­ded with­in the con­struc­tion of the ama­teur per­sona."
Adam Knight:
Tak­ing apart the for­mats of artis­tic pro­duc­tion, Adam Knight address­es com­plex­i­ties inher­ent in art-mak­ing. He is inter­est­ed in pur­su­ing and inter­ro­gat­ing moments of a-syn­chronic­i­ty, doubt and self-cri­tique. Start­ing points often involve research­ing per­son­al his­to­ries along­side spe­cif­ic art, film, archi­tec­tur­al and lit­er­ary ref­er­ences. These may man­i­fest into film, sound, text, sculp­ture or pho­tog­ra­phy. Works direct­ly inform one anoth­er and con­tribute to a broad­er prac­tice-led explo­ration of pre­sen­ta­tion and asso­ci­a­tion.
Knight has exhib­it­ed at var­i­ous art-spaces, gal­leries and been includ­ed in numer­ous film screen­ings and pub­li­ca­tions. He has shown in the Unit­ed King­dom, Ger­many, Por­tu­gal, Nether­lands, Esto­nia, Switzer­land, Unit­ed States, Italy and Aus­tralia. Adam Knight cur­rent­ly lives and works in Lon­don, UK.
5. Jérôme Chazeix – Die Mon­ade, Kampf auf der astralen Ebene / Tief­garage (13:32)
The ani­mat­ed film "The mon­ad, bat­tle on the astral plane", (2009- 2014, 4 min. 31 sec., Three times repeat­ed in a 13 min. 32 sec. HD video loop with music), con­sists of approx­i­mate­ly 4800 indi­vid­ual draw­ings. A musi­cal and col­or­ful envi­ron­ment blends with lan­guage and elec­tron­ic sounds to a Gesamtkunst­werk togeth­er in which to find ele­ments of space, sci­ence fic­tion and ani­me are, and form a dia­logue about the human being as pure cos­mic ener­gy. It explodes, pul­sates, poet­i­cizes and metaphors … a secret way to explain life. The film is a dense net­work of rela­tion­ships form­ing, at the end of a large-scale Total instal­la­tion to be expand­ed. Here, the space forms with the film at the cen­ter of the con­tain­er trans­forms it to Plato's cave.
Jérôme Chazeix:
Jérôme Chazeix's works are con­tem­po­rary total works of art. The approach of his work con­sists in the asso­ci­a­tion of dif­fer­ent media and their cross-over. Sculp­tures, videos, music and draw­ings are the ele­ments he priv­i­lege in his cre­ation. They are inte­grat­ed, among oth­ers, to his instal­la­tions, envi­ron­ments or per­for­mances, and com­bined to form an over­whelm­ing and com­plex scenery, lead­ing to a crys­tal­liza­tion, an asso­cia­tive process much alike a net­work of facets or cos­mos. Per­for­mances, which form part of the whole con­cept, are fre­quent­ly realised in the instal­la­tions and per­ma­nent­ly pre­sent­ed as videos. Like a graph­ic con­t­a­m­i­na­tion the stag­ing take pos­ses­sion of all walls and invite to a spe­cif­ic atmos­phere.

Moni­ka Rech­stein­er – Trig­ger · 2016 / DAS ESSZIMMER (08:24)
6. Hei­di Hörsturz – Yoyu Attack / Tief­garage (3:00)
The medi­aartist "Hei­di Hörsturz" is work­ing in the fields of audio­vi­su­al per­for­mance, video and soundart. Her work have been pre­sent­ed at inter­na­tion­al exhi­bi­tions, gallerys and art fes­ti­vals. Her ani­ma­tions, live shows and instal­la­tions com­bin­ing con­tem­po­rary art and mod­ern dig­i­tal trash aes­thet­ics. She pub­lished a series of lim­it­ed soundart vinyls and audio­tapes which research­es the con­nec­tion of noise, arti­fi­cial over­stim­u­la­tion and con­struct­ed visu­al asso­ci­a­tions.
7. Wouter Huis – Dry Run a por­trait of a stu­dio / Grey­light Projects (5:15)
Dry Run, a por­trait of a stu­dio is a sin­gle screen video about a tele­vi­sion stu­dio. The set­ting exist­ing a table, three chairs, three micro­phones and a sheet of A4 paper, is filmed from mul­ti­ple angles with dif­fer­ent move­ments that are com­mon­ly used in tele­vi­sion pro­grams. The video is pre­sent­ed as a loop with­out a begin­ning or end.
pro­duc­tion: Video Pow­er (Tim Rut­ten & Hans van Hezik)
stu­dio direc­tor: Eric Wijn­hoven (L1)
cam­era: Bart Cui­jpers, Bjorn Frins & Xavier Comuth (L1)
sound: Rene Berg­ers (L1)
sound advicer: Rob Driesen (L1)
Wouter Huis (1974, Oost­er­broek, Ned­er­land) is a visu­al artist who works with dif­fer­ent media. He cur­rent­ly lives and works in Brus­sels and Hoens­broek.
In his works Huis shifts the lim­its of men­tal and archi­tec­tur­al space, the bor­ders of pri­vate and pub­lic space, the real and the fic­tive, delv­ing into the elu­sive­ness of almost-invis­i­ble 'ran­dom' details, such as the "touchy" pair­ing of cor­ners, or the ambi­gu­i­ty of black mat­ter. Huis cre­ates min­i­mal objects, inter­ac­tive (video) instal­la­tions, pho­tographs and (per­for­ma­tive) screen­ings, and makes inter­ven­tions in exhi­bi­tions and pub­lic spaces. He ques­tions (un)conscious meth­ods of cat­e­go­riza­tion, (re)presentation, pro­jec­tion, inver­sion, con­tra­dic­tion, coin­ci­dence and literality/shifting by focussing on small and (so-called) objec­tive changes in space. Huis works have been shown inter­na­tion­al­ly (Brus­sels, Ams­ter­dam, Berlin, New York, Stock­holm, …).
As an exten­sion to his own art-prac­tice Huis found­ed Grey­light Projects. Grey­light Projects start­ed in 2009 as an orga­ni­za­tion in Hoens­broek ded­i­cat­ed to the pro­duc­tion and exhi­bi­tion of new (visu­al) art projects. In 2013 Grey­light Projects expand­ed with a branch in a for­mer con­vent in Brus­sels where in addi­tion to an exhi­bi­tion area and a chapel for per­for­mances also eigh­teen stu­dios are locat­ed. (link: www.greylightprojects.org)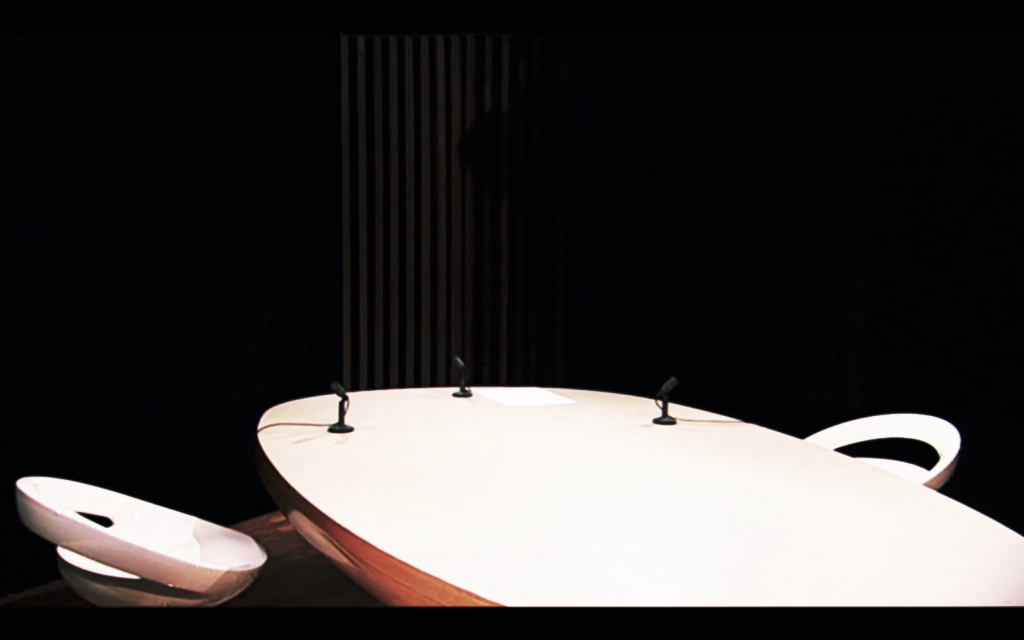 8. Josephine Kaep­pelin – Immi­nent Land­scape / Grey­light Projects(05:37)
Joséphine KAEPPELIN – Immi­nent Land­scape
Immi­nent Land­scape, 2015
slide-show video, sound, 5m35s
with the voic­es of David Colosi, Cat Glen­non and Jake Nuss­baum
The video Immi­nent Land­scape con­sists of sen­tences col­lect­ed dur­ing a stay in New York in 2015 from var­i­ous sources such as pub­lic talks, books, news and con­ver­sa­tions. Stripped from their orig­i­nal con­text, they are rearranged in a par­tic­u­lar order with the pre­sen­ta­tion pro­gram Microsoft Pow­er­Point and record­ed through human voic­es. The work reflects one cur­rent state of mind of the soci­ety in its total­i­ty while each audio or text seg­ment indi­vid­u­al­ly empha­size poten­tial mean­ings.
Joséphine KAEPPELIN (born in 1985, Lyon FR)
Ini­tial­ly based on the bal­ance between human beings and machines, J.Kaeppelin's research­es have recent­ly embraced larg­er issues like tech­no­log­i­cal, social, visu­al sys­tems and the world of work rather than only machines. How do we per­ceive, under­stand and act with­in an envi­ron­ment = a sys­tem? By observ­ing, lis­ten­ing and col­lect­ing ele­ments from the sur­round­ings, she looks for tracks of free­dom, will and con­scious­ness in our way of liv­ing or work­ing. By putting for­ward uses and ges­tures, she focus­es atten­tion on human pres­ence with­in a life dom­i­nat­ed more and more by pro­grams. By using pre-defined for­mats, stan­dards and default set­tings for exam­ple, she exper­i­ments with the like­li­hood of re-appro­pri­a­tion by use. Which strate­gies do we cre­ate to deal with exter­nal sys­tems ver­sus how are they act­ing on us? 9. Petra Egg – miniatur duo / DAS ESSZIMMER (02:07)
Petra Egg – miniatur duo 2 (02:16)
Mit­tels jew­eils ein­er kurzen Sequenz wer­den die bei­den Heimat­filme "Alm­rausch und Edel­weiß" AT
1957 und "Car­men kehrt heim" JAP 1951 in einen Zusam­men­hang gestellt. Nach ein­er inten­siv­en Auseinan­der­set­zung mit dem deutsch/österreichischen Heimat­film der Nachkriegszeit, stellte sich die Frage, ob auch in Japan, einem weit­eren Ver­lier­er des 2. Weltkriegs, ähn­lich Filme ent­standen.
Man sieht bei­de Male, wie die Haupt­darsteller in der unberührten Natur der Berg­welt in schein­bar unbändi­ge Freude aus­brechen, ein­mal ob der Schön­heit dieser Land­schaft, das andere Mal kommt noch die Liebe dazu. Sie begin­nen zu tanzen bzw. tanzend über die Berg­wiesen zu laufen. "Petra Egg fokussiert Motive, um die in den Orig­i­nal­szenen angepeil­ten Wirkun­gen auf den Betra­chter qua­si fortzuschreiben und zu ver­stärken." Rain­er Fuchs
Petra Egg, geb. in St. Johann/Tirol, lebt seit 1988 in Wien. Studi­um der Malerei an der Uni­ver­sität für Ange­wandte Kun­st Wien und Kun­st­geschichte an der Uni­ver­sität Salzburg. Ausstel­lun­gen u.a. in Art Athi­na – Athen, Kun­stvere­in Salzburg, Kun­st­pavil­lon München ud Videonale Bonn.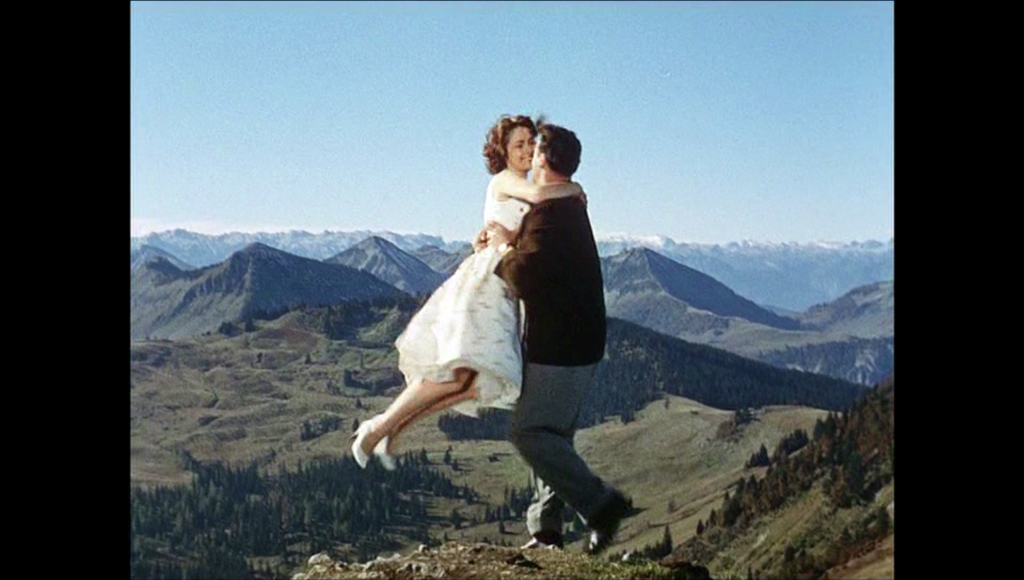 10. Har­ald Hoppe – hh #05 / S.Y.L.A:NTENHEIM / Kun­stver­sorgungsquarti­er (10:01)
hh #05 (10'20min 16:9 split screen Vide­oloop, 2017–2013)
Per­son mit Kam­era und Per­son nackt bewe­gen sich für je 30 Minuten in einem abgesteck­ten Radius in einem Schil­f­feld. Danach Wech­sel der Rollen.
Har­ald Hoppe – Video, Per­for­mance, Par­tizipa­torische Pro­jek­te , lebt und arbeit­et in Alfer
Präsen­tierte seine Arbeit­en unter Anderem in Tem­poräre Kun­sthalle Kamenz, Tem­poräre Kun­sthalle Ther­mi, S.Y.L.A.NTENHEIM, Bonn (D), Inter­na­tion­al Vide­ofes­ti­val Camar­guey. Deutsch­land­stipendi­um und Stipendi­um des Bun­desmin­is­teri­ums für Bil­dung und Forschung.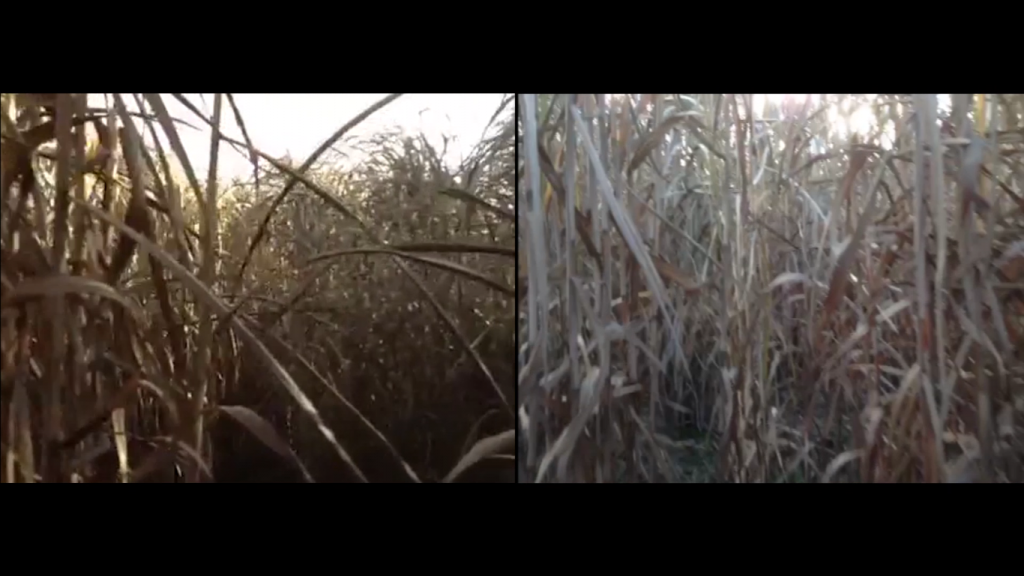 11. Katarzy­na Badach & Alfre­do Ramos Fer­nán­dez – Surf­ing Bue­na Vista / DAS ESSZIMMER (03:30)
Katarzy­na Badach http://www.kabadach.com/
Born 1975 in Gdan­sk, Poland. Lives and works in Havana, Cuba and Berlin, Ger­many.
Alfre­do Ramos http://www.alfredoramosfernandez.com/
Born 1964, Havana Cuba. Batis­cafo Schol­ar­ship, Tri­an­gle Arts Trust.
12. Ine Lamers – USTALA / DAS ESSZIMMER (20'21)
Direct­ed by Ine Lamers 2005–2009 Film based on impro­vi­sa­tion with a group of ama­teur and pro­fes­sion­al actors, per­formed and doc­u­ment­ed in Toly­at­ti, Rus­sia. Scenes and tableaus are inspired by his­toric archive mate­r­i­al and obser­va­tions of dai­ly life in con­tem­po­rary Toly­at­ti.
Log­line: A group of young peo­ple con­vict­ed to each oth­er appears strand­ed in no-man's yesterday's par­adise. Every time they dis­band; a big red bus dri­ves them back togeth­er again Syn­op­sis An acci­den­tal group of young Rus­sians hang out by the remains of what has once been a par­adise. The dystopic resort they find them­selves in is sit­u­at­ed on the periph­ery of Toly­at­ti, a com­mu­nist mod­el town, built in the 1950s. While walk­ing in a night­ly pro­ces­sion rehears­ing poems or stand­ing in line and speak­ing in alien­at­ing prose, the group seems to be per­form­ing a rit­u­al; await­ing and hop­ing for some­thing. Stone, grass and hol­low mon­u­ments of cul­ture sur­round them. The scenery is mud­dy, windy, and the sky is of a brown-grey hue; it is unclear whether it's night or day. Some char­ac­ters emerge into our visu­al fore­ground by way of their repet­i­tive actions: Olya who jumps mechan­i­cal­ly in the water, Mar­cia who runs, and Sla­va who, almost in a stage of trance, touch­es the his­toric mosa­ic wall. No-one lis­tens, but this does not pre­vent Tanya from talk­ing about hope and expec­ta­tions and how "every­thing will change". "Maybe it's bet­ter to keep silent again" replies Sergei in return. Inter­rupt­ed by frag­ments of archival film mate­r­i­al of the city in ear­li­er, more 'hope­ful' times, Usta­la unrolls a dark sce­nario of loss and innate despair. We lose track of fol­low­ing sense and mean­ing as absur­di­ty increas­es. Some of the girls sim­ply "want cof­fee" and call for "Diana". Mar­cia gets tired and final­ly open­ly gives up. "You're not one step clos­er?" "I want some­thing hot to drink", she begs.
Ine Lamers makes video art, where nar­ra­tive and abstract ele­ments are jux­ta­posed with one anoth­er, depict urban still-lives with traces of human activ­i­ty, or par­a­lyzed scenes on which actors take stage. The works form a research into the nar­ra­tive poten­tial­i­ties of pho­to­graph­ic and video media.
"I seek out sto­ries and buried mem­o­ries and trav­el to coun­tries where ide­ol­o­gy is encap­su­lat­ed in the archi­tec­ture and the city space. Social­ist city archi­tec­ture and the traces of com­mu­nist ide­ol­o­gy have cen­tral sig­nif­i­cance in recent pho­to­graph­ic and video works. The dystopi­an scenes in urban periph­eries are often cap­tured at dusk or at night, or with actors on the­atri­cal stages. The obscu­ri­ty and arti­fi­cial­i­ty evoke a view on how the past is still part of the present.
The pho­tos and videos pur­pose­ful­ly offer us frag­ments. In exhi­bi­tions the view­er becomes part of the recon­struc­tion of a non-lin­ear visu­al nar­ra­tive."

Hei­di Hörstuz – Yoyu Attack
Nr.13: The Leg­end — präsen­tiert von DD 55 Art Gallery
The Leg­end is a video By Robert Acklen-Brečko, Malik Gaines, and Alexan­dro Segade. Appro­pri­at­ing the myth­ic qual­i­ties of the Nor­we­gian land­scape where it's shot, The Leg­end con­veys some of the long­ing and cat­a­stroph­ic mas­culin­i­ty of Eng­lish Arthuri­an sto­ries. Dri­ven by the desire to kill his father, Mor­dred assem­bles a melan­cholic band of rene­gade broth­ers with vio­lent lusts and moth­er issues. Their syn­thet­ic ath­let­ic-wear armor won't pro­tect them from the cri­sis of their world. The Leg­end draws on a chival­rous lit­er­ary tra­di­tion that includes Le Morte d'Arthur, Sir Gawain and the Green Knight, The Mists of Aval­on, Camelot, and Segade and Gaines's work with the per­for­mance group My Bar­bar­ian. The Leg­end was com­mis­sioned by the Roga­land Kun­st­sen­ter, Sta­vanger. Acklen, Gaines, and Segade per­form along with Hiroshi McDon­ald Mori, Matias Kiil Halvors­en, Alek­sander Naer­bo, Runar Aanes­tad, Torunn Elis­a­beth Larsen, Tor Erik Bøe, Andreas Breivik, and Clau­dia Bull.